Walking beam type reheating furnaces
Walking beam type continuous reheating furnaces from Viet-Nhat Furnace combine large capacity and efficiency. They are widely used by leading steelmakers and manufacturers of steel piping. We provide comprehensive engineering services that enable our clients to increase heating efficiency, cut costs, lower energy consumption, and reduce the environmental impact of their operations.
| | |
| --- | --- |
| Gas Fired Walking beam Type Reheating Furnace (Two - furnaces Type) | Conceptual Drawing of Regenerative Burner Combustion |
| | |
| --- | --- |
| Walking Beam Type Continuous Slab Reheating Furnace for Thick Slab Rolling | |
| | | |
| --- | --- | --- |
| Walking Beam | Regenerative Burner | Bypass Conveyor |
Pusher type reheating furnaces
Pusher type continuous furnaces are use in a broad range of fields, from reheating furnaces for steel slabs to metal heat treatment furnaces. VNF has an extensive track record and broad experience in both pusher type and walking beam type furnaces. Along with developing new furnaces, we are actively involved in the rebuilding of existing furnace installations to boost capacity.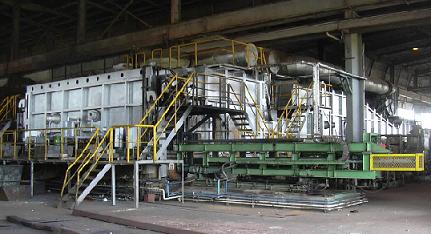 Pusher Type Reheating Furnace (Side Discharge Type). Billet Length: 5 - 6 m
Forge furnaces
Car type hot forge furnaces are used to heat steel and nonferrous metals such as aluminum to a variety of working temperatures. Designed for energy efficiency and compactness, they provide stable and rapid heating to uniform temperatures. VNF provides high-quality furnace systems that are optimized to the customers requirements in terms of scale, construction schedule, application, and materials.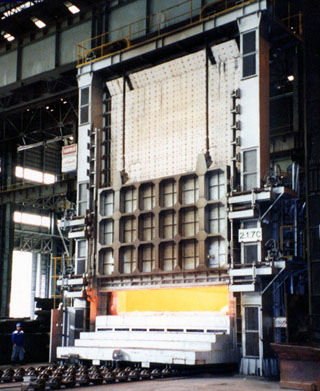 Car Type Forge Furnace 60 - 150 ton/charge
Heat treatment furnaces
Heat treatment furnaces can accommodate a variety of materials and treatment goals through the use of optimized settings for heating and cooling temperatures, wait times, heating and cooling speeds, and ambient conditions. Changing any of these settings alters the properties imparted to the work material. VNF supplies total heat treatment systems including both the furnace itself and attendant equipment such as controllers, ambient gas generators, and cooling units.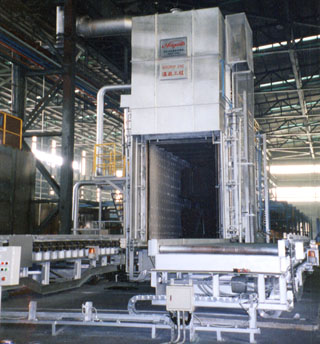 Roller Hearth Type Coil Treatment Furnace



Vertical Type Heat Treatment Furnace 300 ton/charge